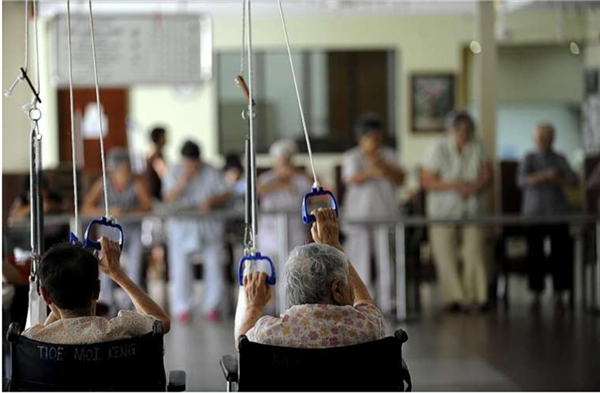 By the time we retire, we would have spent about 40-45 years of our lives toiling for ourselves and our loved ones. Many of us look forward to retirement, where there are no more working hours to adhere to, and no more waiting for weekend to arrive week after week. We call it the "Golden Years of Retirement". However, most of us have not seriously planned for these Golden Years, be it finances, healthcare, housing type, or lifestyle.
It is easy and nice to think about all the wonderful things we are going to do and wonderful places we are going to when we retire. But did you know, on average, Singaporeans will live approximately 10 years in ill health? This is seldom discussed, and I thought I shall highlight it as the reality is very stark after my recent volunteering stint with the Singapore Cancer Society (SCS). People from all walks of lives are beneficiaries of SCS, not just the low income! Medical cost essentially depleted their savings & forced them to apply for grants.
All of us have basic Medishield Life and most of us have Integrated Shield Plans to protect us from unexpected large hospital bills. The rising healthcare cost just means that premiums will increase with age and with the cost of medical care. The premiums for Integrated Shield Plan need to be paid even when you stop working or when you are in ill health. It is quite startling how many people have not quite realised this.
What many of us also may not realise is that, Integrated Shield Plan is not a "Super-Plan" that is going to cover all the costs associated with an illness. I know of a lawyer who contracted cancer and still ended up leaving his better half with a mountain of debt upon his passing. Outpatient medical bills, specialised medical equipment at home, medical peripherals, long term medication, caregiver fees, alternative treatments and the list go on; these cannot be covered by Integrated Shield Plan. Neither does the plan pay for nursing home or palliative care in a hospice.
Today, the average cost of nursing home in Singapore range from $1,200 - $3,500 a month, going up to $7,000 a month if one needs intensive care. Caregiving cannot be replaced by technology and there is labour shortage in this sector. Coupled with an ageing population, we will not only have hospital bed crunch, we are going to face nursing home bed crunch too! One can only imagine how much such services will cost in 20-30 years' time! At $3,500 per month, to afford the care for 10 years, this already amounts to $420,000 in today's value.
When planning for our golden years of retirement, let's not forget to consider the scenario where we are not in good health. Failing to plan will only result in a burden on our loved ones and there is nothing golden about that.
I recently received my Certificate in Retirement Adequacy Planning as well as completed a course on CPF for Retirement. If you wish to take responsibility for your retirement, let's have a chat!